Information about the links or groups of links shown below.
GUEST BOOK LINK IS NO LONGER FUNCTIONAL. I assume it is due to an entry with problems attached, as I cannot remove the link either. Search engine links remain as provided by Freeservers. Other links include ones to the sites I do for our Scout Troop, Troop 1 in Topeka, Kansas and to some fine photographic resources.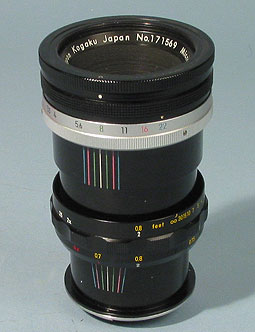 This is a rare lens made by Nikon. It is the 5.5cm f3.5 Micro Nikkor Pre-set version lens. The auto diaphram versions have long been popular for both close-up work and general shooting. This one has the pre-set diaphram you open and close yourself, and focuses all the way to life size without requiring the additional extension tube used for 1/2 to life size shooting with the auto versions. It is shown focussed all the way out to shoot life size images.
Search Engines
AltaVista You know us as the Internet's original search engine.
Lycos One of the most visited hubs on the Internet reaching one out of every two web users.
Yahoo! With over half a million sites divided into more than 25,000 categories, Yahoo! is both browseable and searchable.
InfoSeek GO Network is a new brand that brings together the very best of the Internet in one, easy to use place.
Favorite Sites
BSA Troop 1 Site of the Scout Troop I am Ass't Scoutmaster for
My pictures Sister site to this site, featuring pictures I have taken, many of which were shot by cameras on this site. Also Kodak 35RF section AND AMERICAN MADE 35mm CHAT BOX
Dan's Antique Cameras Emphasis on 1800's cameras, some newer, many good collecting site links
Rick Oleson collection Rick has a fine selection of articles and links to other collecting site.
Scott's Photographica This is the home page to Scott's Photographic collection articles
Kievaholic Club I have a whole page of Kiev. Here is more information, especially on 120 SLR Kiev's.
Russian Leica Fakes See my gold Leica fake on the "more cameras" page, learn about the fake Leicas here.
Merrill Photography This link takes you to Marcy's experiments with little cheapie cameras - a fun photo site
Guestbook NO LONGER FUNCTIONAL